The city of Pompeii is a partially buried Roman town-city near modern Naples in the Italian region of Campania, in the territory of the comune of Pompei. Along with Herculaneum, Pompeii was destroyed and completely buried during a long catastrophic eruption of the volcano Mount Vesuvius spanning two days in the year AD 79. The eruption buried Pompeii under 4 to 6 m (13 to 20 ft) of ash and pumice, and it was lost for nearly 1700 years before its accidental rediscovery in 1749. Since then, its excavation has provided an extraordinarily detailed insight into the life of a city at the height of the Roman Empire. Today, this UNESCO World Heritage Site is one of the most popular tourist attractions of Italy, with approximately 2.500,000 visitors every year.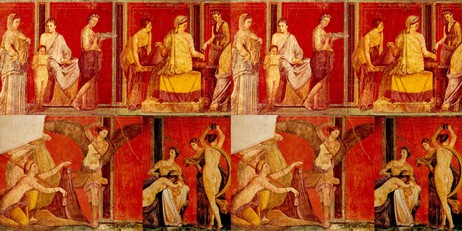 Easy tours from Rome to Naples

If you are in Rome or spending few days in Naples and wish to visit Pompeii and the other famous Archaeological sites in a single day. Use the FRECCIAROSSA or ITALO train from Rome ! The cheapest and fastest way to get to Naples from Rome is by the FRECCIAROSSA train: by car it takes about 3 hours, while by train it takes only 1 hour. The fast train from Rome to Naples departs every hour and you can buy tickets directly on-line on the Trenitalia or Italo site.